We are delighted that these schools have received their new pupils! (puppets) to now use the IY Dina Programme which they have also been trained to deliver.
Dina is a very children friendly, strengths based way to support children as they develop their social skills, communication and problem solving.
6 schools in our area now have the training and resources which we are delighted to provide in partnership with Ingrid O' Riordan and the School Completion team.
It also compliments the IY Teacher Classroom Management and IY Parents Programme, – a whole school community approach.
Have fun children!
Scoil Isogain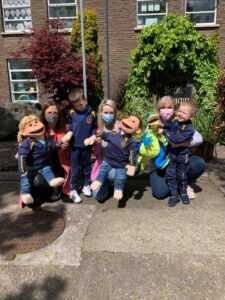 Testimonial
"We got such a welcome phone call this morning from
Let's Grow Together Infant and Childhood Partnerships
, formerly Young Knocknaheeny. They were on the way with our newest pupils – Molly (our first girl!), Wally and their friend Dina
.
Some of Ms. Worsley's boys were thrilled to welcome their newest pals.
Now that we have our newest pupils enrolled, we can begin to roll out Dina Dinosaur's Social & Problem-Solving Curriculum in September. We have four teachers trained in delivering
The Incredible Years, Inc.
programme.
We are so grateful to Ingrid and all at Let's Grow Together for this amazing opportunity. We could not have done any of this without them."
Blarney Street School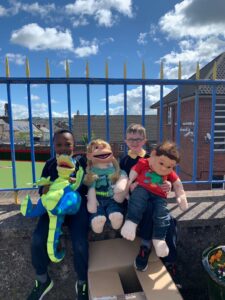 Blarney Street National School also received their puppets to help implement the Dina Dinosaur's Social & Problem-Solving Curriculum next year. We are excited to see how the newest members of the school community settle in over the coming year!