Our Vision
Our communities are places where children experience happy, healthy and thriving childhoods that last a lifetime and no child is left behind.
Our Mission
To work in partnership with everyone important in children's lives, sharing knowledge, skills and resources, empowering families and enabling children through their relationships and in their communities to be nurtured, fulfilled, achieving and learning.
Our Values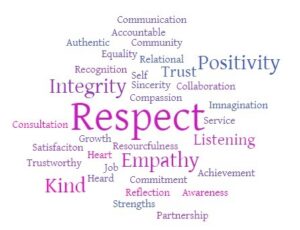 Inclusive
We will build trusting supportive relationships with families. Families include everyone who is important in a child's life: parents – Mams AND Dads, caregivers, and the wider family including grandparents, and the wider community. We will engage and be accessible to all while recognising that some require additional supports to facilitate inclusion.
Respectful
We will show respect in all our interactions at every level of the organisation.  We seek to be a trusted and valued support to children, their parents and guardians, caregivers, educators, services and communities.
Empathetic
We place the relationship at the core of all aspects of our work. We offer empathy and kindness. We are trauma and adversity aware and responsive. We are non-judgemental. We acknowledge and accept challenges, but always build on strengths.
Integrity
We will stay aligned with the vision, mission and principles of our work. Our work is informed by evidence and good practice. We work to a high standard with positivity and commitment. We advocate with and for children, families, their services and communities.
Open
We will listen and communicate effectively at all levels of the organisation to be visible and accessible. We will continuously learn and engage with stakeholders in design, implementation and evaluation processes.
Collaborative
We will work in partnership with children, their families, practitioners, services and organisations, policy makers and the State, with the purpose of improving outcomes for children, families and communities. At all times ensuring that we have consent from participants.
Well Governed
We will be an organisation providing quality in terms of governance and compliance as an employer, and effective deliverer of services, offering value for money and sustainability.