Supporting and promoting early relationship development within the context of family, home and community is the central focus of this strategy. It works to translate the science of early development and implement the necessary knowledge, core skills, practice and services to support optimal physical, social and emotional development in the pre-birth to three years' period of a baby's and young child' development. The Interdisciplinary IMH team deliver a suite of evidence-based programmes and interventions that are available in the community. Wider workforce capacity building, through education, training, mentoring and ongoing development, into services and frontline practice is another important feature of the strategy. The Infant Health and Wellbeing Strategy is delivered through partnership and collaboration with wider interagency partner organisations.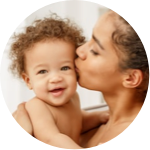 The strategy includes:
Home Visiting
The interdisciplinary IMH team provides home visiting to families from pregnancy through to when children are turning 4.
This may include, preparation for parenthood, New Born Observational Tool, and the 6 elements of the Infant Mental Health homevisiting programme: Concrete Assistance; Developmental Guidance; Relationship Observation, Emotional Support, Advocacy, limited Infant Parent Psychotherapy.
Our team members are all Tusla Meitheal Lead Practitioner trained.
Groups
Baby Massage, Elklan Let's Talk with your Baby, PEEP
Kidscope Child Development Clinic
we provide administrative resources to Kidscope. We also participate in the post clinic review meetings and receive referrals from the clinic
Infant Mental Health Masterclasses
These Master Classes are aimed at practitioners involved in delivering services to infants, toddlers and their families. This training will give participants an in-depth knowledge on Infant Mental Health principles and their application in professional practice. This is a 2 full day training, that is also adapted to Early Years Services, over 4 sessions.
Infant Mental Health Network Groups
Following attendance at a Masterclass participants are invited to join an Infant Mental Health Network supported by Let's Grow Together! These monthly Network groups aim to create a framework for a new way of integrating and embedding evidence based research and practice into members' services and personal practice.
Infant Mental Health Network of Networks
All Let's Grow Together! supported Infant Mental Health Network Group come together on a quarterly basis to ensure they aligned in their role, function and practice to support IMH knowledge and skills acquisitions amongst NG memberships and this is aligned to international best practice and fidelity. The Network of Networks is a space to share, support and resource NG facilitators and co-ordinators in developing and consolidating aligned approaches to local IMH-NG's. It aims to contribute to national best practice, and aligned to IMH competencies.
Other training and development opportunities