National ABC Programme Logic Model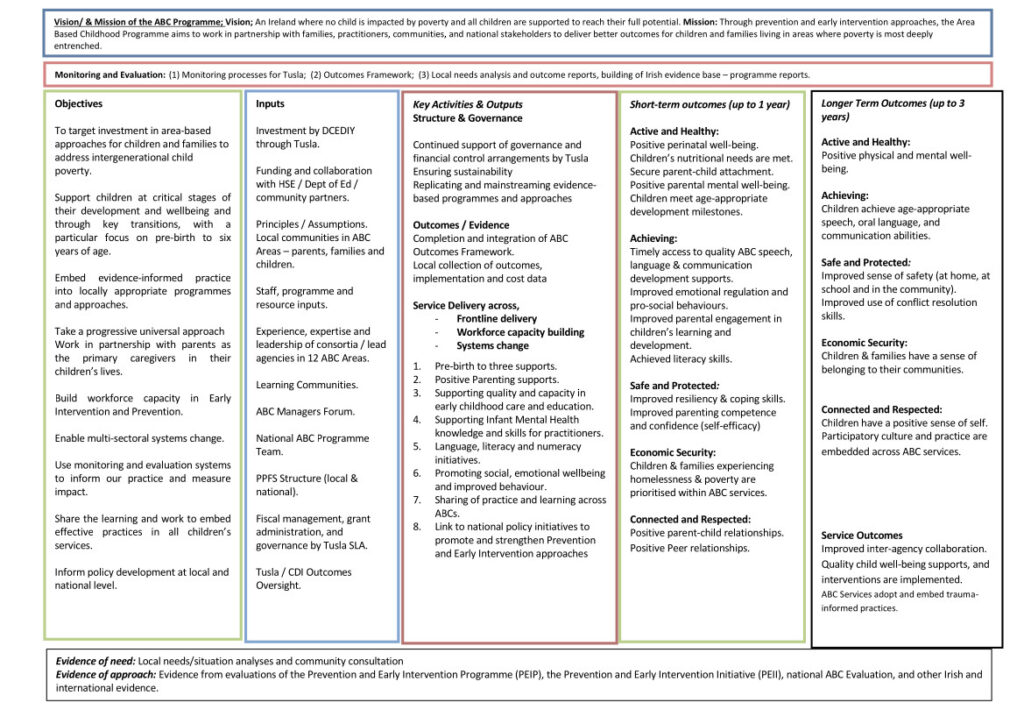 ABC Programme Vision
An Ireland where no child is impacted by poverty and all children are supported to reach their full potential.
ABC Programme Mission
Through prevention and early intervention approaches, the Area Based Childhood Programme aims to work in partnership with families, practitioners, communities, and national stakeholders to deliver better outcomes for children and families living in areas where poverty is most deeply entrenched.
ABC Programme Objectives
Support children at critical stages of their development and wellbeing and through key transitions, with a particular focus on pre-birth to six years of age.
Translate the science of early childhood development and evidence-informed practice into locally appropriate programmes and approaches.
Mitigate the impact of intergenerational poverty and improve outcomes for children and families.
Take a progressive universal approach to addressing child poverty.
Actively support and work in partnership with parents as the primary carers and educators in their children's lives.
Enhance the provision of quality prevention and early intervention approaches by developing workforce capacity (education, training, coaching, mentoring and reflection) across children's services.
Utilise and enable whole-systems, multi-stage processes to enhance children's services and practice at local and national level to improve outcomes for children.
Use monitoring and evaluation systems to inform our practice and measure impact.
Share the learning and work to embed effective practices in all children's services.
Inform policy development at local and national levels where ABC areas are utilised to test, evaluate and disseminate intervention processes and outcomes.
ABC Delivery Approaches
ABC sites operate at three levels of change:
Frontline delivery of PEI services for children and families which support early child development
Capacity building, facilitation, and support to other service providers to implement evidence-based ways of working
Systems change efforts with managers and decision makers at local, regional and national level.
ABC Programme Intervention Themes
Pre-birth to three supports including home visiting and group-based supports for parents, care givers and families.
Programmes to foster positive parenting and improved child and family social and emotional wellbeing.
Supporting quality and capacity in early childhood care and education.
Increasing knowledge and skills for early childhood development, including Infant Mental Health across child services.
Interventions for language, literacy and numeracy development in preschools, schools and with families.
Promoting social, emotional wellbeing and improved behaviour; youth mental health and positive relationships.
ABC Programme Publications