"It's great watching my baby be more and more interactive each week. My baby was mesmerised by [the facilitators] singing. He loves it. Would listen to songs all day."
There is a strong emphasis on documenting, researching and evaluating Let's Grow Together activities and service design to inform best practice and policy.
This is achieved through our internal monitoring and evaluation processes as well as close working partnerships with UCC and other agencies.
Peer Reviewed Journal Articles
Buckley, L., (2023) KIDSCOPE Community Paediatric Clinic 2010-2023 LYNN BUCKLEY, LET'S GROW TOGETHER & UNIVERSITY COLLEGE CORK
Buckley, L., Martin, S., Looney, E., Let's Grow Together Team (2023) Evaluating the effectiveness of an Infant Mental Health training programme on Early Years practitioners' skills and practice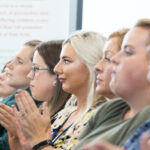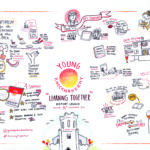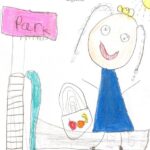 Title: The KidScope Study: An analysis of a community-based paediatric development clinic set in a disadvantaged area of Ireland
Authors: Buckley L, Gibson L, Cornally N, Harford K, Curtin M
Description: This is a four-year PhD project conducted through University College Cork (UCC) the SPHeRE (Structured Population and Health-services Research Education) Programme. The research scholar is Lynn Buckley, Let's Grow Together Programme Officer, and the project is supervised by Dr Margaret Curtin and Dr Nicola Cornally from the School of Nursing and Midwifery UCC, and Dr Louise Gibson, Department of Paediatrics and Child Health UCC and Consultant Paediatrician in Cork University Hospital.
KidScope is the only paediatric outreach clinic to offer free assessment, consultation, and onward referral of children within a highly vulnerable community. This study is the first opportunity to apply critical quantitative and qualitative lenses to the KidScope Clinic to understand its impact on child and family outcomes and practitioner service provision. The aim of the study is to deliver a clear, cohesive, and rigorous evaluation of KidScope in order to contribute to the evidence-base on best practice in addressing avoidable developmental delay in disadvantaged communities through early detection and timely referral to services.
Funders: Let's Grow Together! Infant & Childhood Partnership CLG and the Irish Research Council Employment Based Postgraduate Programme (EBPPG/2019/197).
Duration: Sept 2019 – Dec 2023
Title: Measuring the efficacy of an early communication and literacy programme for infants: Babbling Babies
Authors: Walsh G, O'Sullivan S, Harte J, O'Toole C
Description: The aim of this study is to examine how the Let's Grow Together Babbling Babies service can help promote and support early communication development for babies. Babbling Babies is offered to all parents/caregivers in the northwest area of Cork City when they attend their baby's routine 9-11 month developmental check-up with their Public Health Nurse. This is an innovative service whereby all parents/caregivers are offered an opportunity to meet with a Speech and Language Therapist to discuss and model how they can interact with their baby to promote early language, literacy, and communication development. We work in partnership with the local Public Health Nursing Department to bring this service to families living in the area.
Dr Margaret Curtin (School of Nursing and Midwifery, UCC) and Dr Shirley Martin (School of Applied Social Studies & the Institute for Social Science in the 21st Century (ISS21), UCC) are supporting the research.
Funders: Dr Ciara O' Toole (Department of Speech and Hearing Sciences, UCC) has been awarded an Irish Research Council New Foundations grant to see how our Babbling Babies service can help promote and support early communication development for babies.
Duration: Jan 2022 –